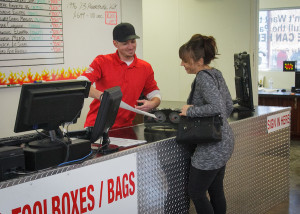 U-Pull-It Auto Parts is a family owned business with over 20 years' experience in the salvage yard industry. Each of our locations has over 1200 vehicles to choose from with new inventory brought in daily. Our number one priority at U-Pull-It is you the customer. We strive to give you top notch customer service while offering quality used parts at a savings of 80% or more! Not only do we offer the lowest prices but we also back our parts with the best warranty in the industry. All of our parts come with a free 6 month warranty!! So if the part doesn't work, goes bad or is the wrong size, you can exchange it for another part for up to 6 months!
Did you know that in many cases, the part you are looking for can be found on other types of vehicles? U-Pull-It offers a free interchange service that will list all the vehicles we have that very well could have the same part you are looking for. Each vehicle also has a mapped location on the yard so you know right where to look. No searching or wasted time. Just be sure to bring your tools!
Have a vehicle you want to sell? U-Pull-It Auto Parts pays top dollar for cars and trucks running or not. We can have that car or truck out of your way and cash in your pocket that same day! If your in the market to purchase a vehicle we can help with that also. We have a great selection of cars and trucks for sale at prices you won't find anywhere else.
So what are you waiting for? Stop by today and see how much you will save when you shop U-Pull-It Auto Parts first. Remember! YOU pull it! YOU save!
You can also like us on Facebook or even follow us on Twitter.